Tiramisu without eggs with limoncello
Tiramisu is a traditional dessert loved all over the world… even in its many variations! For those who do not like coffee and prefer citrus flavors, here is a really tasty recipe: tiramisu without eggs with limoncello. The classic mascarpone cream, enriched with limoncello and lemon zest, is made without eggs and therefore can be enjoyed with peace of mind! Instead of coffee, a limoncello and water based syrup is used, which gives the dessert a pleasant alcoholic note. Prepare the egg-free tiramisu with limoncello to round off a dinner with friends and, if there are children, take them by the throat with an equally delicious non-alcoholic version, the lemon tiramisu !
Doses & Ingredients
Ingredients for 6 bowls
LADYFINGERS BISCUITS

 12

MASCARPONE

 250 gr

WHIPPED CREAM

 250 ml

POWDERED SUGAR

 60 gr

LIMONCELLO

 30 ml

LEMON ZEST

 1
For the wet
LIMONCELLO

 1 glass

½ glasses of WATER
To garnish
DOSES FOR

6 people

DIFFICULTY

low

PREPARATION

30 min

COST

low

FOOD AVAILABILITY

easy
Preparation
1. Mix the mascarpone, whipped cream and icing sugar in a bowl.
Add the lemon zest, the limoncello and mix again gently.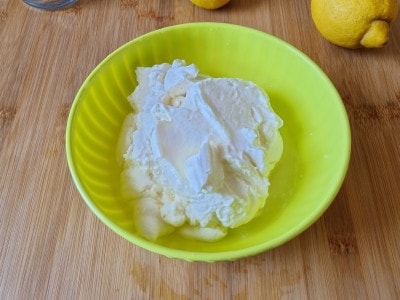 2. Pour a glass of limoncello and half a glass of water into a bowl.
Soak the ladyfingers in the mixture of water and limoncello.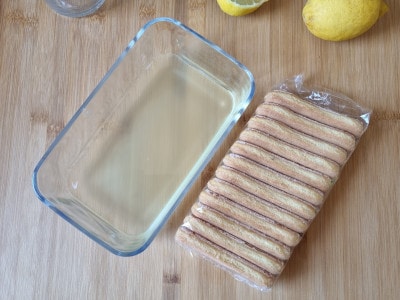 3. Place the soaked and chopped Savoyard on the bottom of a dessert glass.
Add a layer of limoncello cream with the help of a sac-à-poche.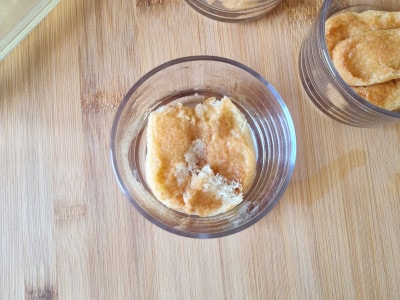 4. Repeat the operation creating another layer of ladyfingers and cream.
Once all the bowls are complete, decorate the egg-free tiramisu with limoncello with a slice of lemon.