Panelle
The simple panelle are delicious gluten-free chickpea flour pancakes, a typical Sicilian recipe, to be consumed as an appetizer or traditionally in a good sandwich with sesame. The simple panelle are made with very few ingredients, the version we present today is the one used in the province of Trapani, it differs from those of Palermo due to the absence of chopped parsley in the dough. In Sicily it is traditional to eat them on the street from the "panellari" where you can taste delicious simple "panini e panelle" seasoned with salt and pepper or with the addition of sauces or lemon juice. They are often eaten as an appetizer in buffets, aperitifs or before a pizza, perhaps together with chips and croquettes. With this recipe, simple and quick, you will get panelle that do not fall apart during cooking, perfect to cut into slices or cubes, soft and delicious.
Doses & Ingredients
CHICKPEA FLOUR

 500 gr

WATER

 1.5 l

SALT

 1 tablespoon

SEED OIL FOR FRYING TO

 taste
DOSES FOR

8 people

DIFFICULTY

low

PREPARATION

10 min

COOKING

20 min

COST

very low

NOTE:

THE PANELLE DOUGH MUST BE COOLED BEFORE BEING SLICED ​​FOR ABOUT 2 HOURS
Preparation
To make simple panelle, put a large pot with water and salt on the stove. When it reaches a boil, add the chickpea flour to rain. While pouring the flour, mix with a spoon.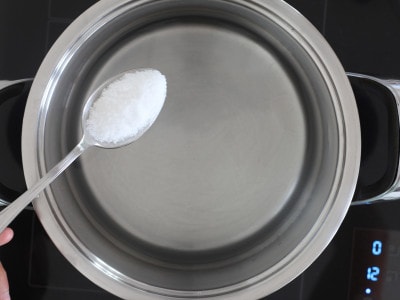 Don't worry if lumps form. If so, remove the pan from the heat and use a hand blender to remove them. Put the pan back on the heat, which must be medium, continue stirring for about 15 minutes.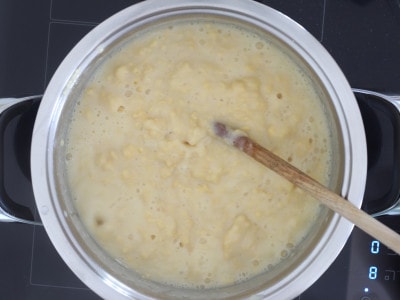 After 15 minutes, pour the chickpea flour mixture into a pan trying to create a rectangle at least 5 cm high. Level with a spoon, constantly dipping it in cold water. Let it cool completely.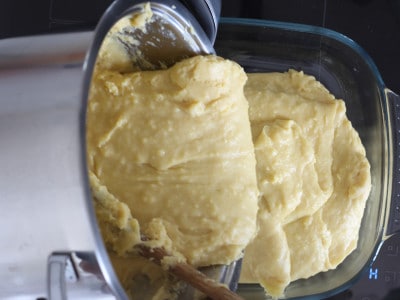 When it is completely cold, remove the dry surface. Proceed to cut first strips about 5 cm in size, then cut into slices about half a cm thick from these rectangles or make cubes.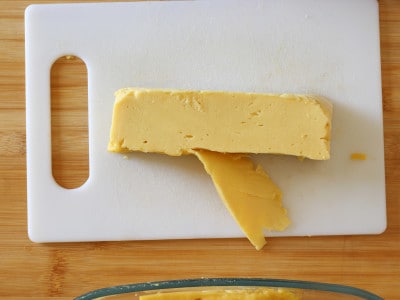 Heat plenty of seed oil and fry your simple panelle. Cook them a little at a time until they have reached a light browning. After passing them in a dish covered with absorbent paper, this step will help to eliminate the excess oil.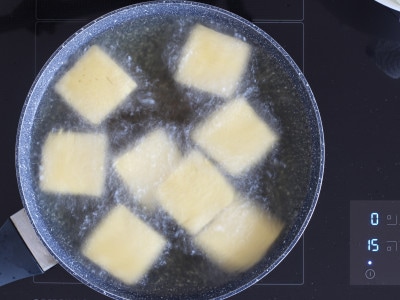 While they are still very hot, salty and peppery. Serve your plain panelle on a serving plate or stuff your sandwiches.
Storage
For simple panelle, as for any fried, conservation is not recommended. Instead, you can freeze them before cooking. When you want to consume your panelle, you can directly fry the still frozen panelle.