Orecchiette with turnip tops and bacon
Orecchiette with turnip tops are an institution of Apulian cuisine! If you also love this first course , then you cannot miss a variant with a particularly creamy and tasty sauce, orecchiette with turnip tops and pancetta. The smoky note of the pancetta goes perfectly with the bitter taste of the turnip greens, but the real novelty is another: the turnip greens are blended with the stracciatella, the heart of the burrata, to obtain a velvety and enveloping cream! Each forkful in this way will be seasoned to perfection and will give each bite an explosion of flavors.
Ingredients
ORECCHIETTE

 500 gr

TURNIP GREENS

 300 gr

SMOKED BACON

 160 gr

STRACCIATELLA

 100 gr

CLOVE OF GARLIC

 1

EXTRA VIRGIN OLIVE OIL (EVO) TO

 taste
to serve
STRACCIATELLA TO taste
BLACK PEPPER to taste
DOSES FOR

4 people

DIFFICULTY

low

PREPARATION

10 min

COOKING

30 min

COST

low
Preparation
1. First, brown the smoked bacon in a pan.
When it is crunchy, set the bacon aside and keep the cooking juices in the pan.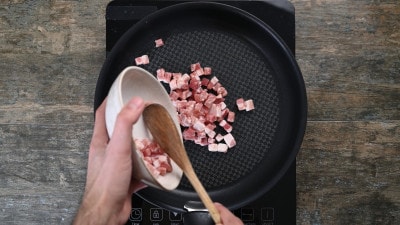 2. Clean the turnip greens and boil them for 10 minutes in salted water.
Drain the turnip greens, keeping the cooking water that will be used to cook the pasta.
In the same pan where you cooked the pancetta, brown the garlic clove with a drizzle of oil, then add the turnip greens and sauté for a few minutes.
3. Transfer the turnip greens, sauté in a bowl and add the stracciatella.
Blend with an immersion mixer until you get a homogeneous cream.
4. Now pour the orecchiette into the cooking water of the turnip greens and cook them al dente.
Meanwhile, pour the turnip greens and stracciatella cream into the pan.
Drain the orecchiette in the pan with the sauce and toss everything by adding a little cooking water.
Finally add the crispy pancetta keeping a few cubes aside for serving.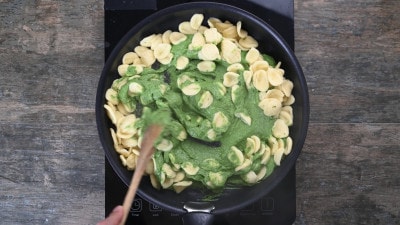 5. Serve the orecchiette with turnip tops and pancetta and complete with a sprig of stracciatella, a sprinkle of pepper and the remaining bacon.