10 uses and good remedies from garlic
Did you know, in addition to being a daily spice in every family meal, garlic also has many other effects in the treatment of diseases such as flu, cough, rheumatism, cancer treatment…
Garlic has many medicinal uses
Here are 10 good remedies from garlic:
1. Flu
Method 1: Garlic tubers peel off the thin outer shell, soak with vinegar for 30-40 days, eat daily.
Method 2: Squeeze garlic to get garlic juice, dilute with boiling water to cool in the ratio 1:10. Then add a little salt. Use this water to instill in the nose 2 to 3 times a day.
2. Stomach full, indigestion
Method 1: Use garlic juice, remove the residue diluted with warm water to drink daily.
Method 2: Take 50g of minced garlic, soak with 200ml of white wine within 15 days. Use wine and garlic residue to drink. 1 teaspoon each time, 2-3 times/day.
3. Cough, sore throat
10g garlic peeled, leave the whole branch and then soak with vinegar for 30 days. Use a thinly sliced ​​soaked garlic clove and hold it in your mouth for 10 to 15 minutes. Persistent use can cure chronic cough.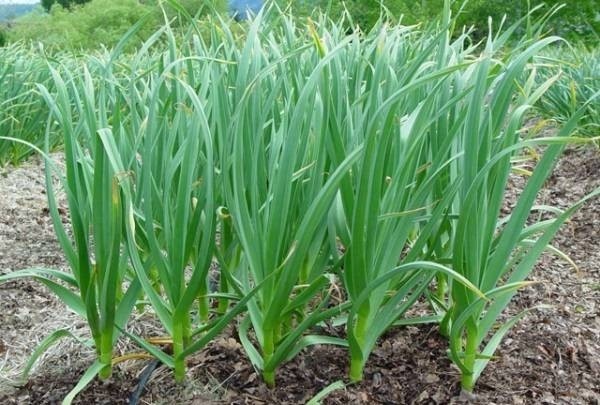 Garlic soaked whole branch with vinegar has the effect of treating chronic cough
4. Rheumatism, bone pain
Garlic bulbs peeled off into small cloves, left unpeeled, then split in half and soaked with alcohol in the ratio of 100g garlic: 200ml water. Soak for up to 45 – 60 days or maybe longer, then use this water to apply to the painful area, gently massage.
It should be used regularly, especially at night before going to bed.
5. Diabetes
Garlic tubers peel off the thin outer skin, soak with vinegar for 30-40 days. Eat about 5g per day. Eating immediately within a month will help reduce blood sugar significantly.
6. High blood pressure, blood clots
Method 1: 10 grams of garlic soaked in vinegar or alcohol per day will be an effective way to stabilize blood pressure. Note that only pickled garlic should be eaten, not combined with alcohol soaked through garlic.
Method 2: 100g of peeled garlic mixed with 100g of white beans, simmered with 2 liters of clean water for 2 hours. Use this water to drink every day. Boiled beans can be eaten. Use this remedy at least once every 2 weeks.
7. Cancer treatment
Researchers have conducted many works, proving that garlic can kill bacteria residing in the abdomen and reduce the risk of stomach cancer.
Method 1: Use 50g of garlic and 100 fresh kumquats, squeeze the juice. Use this water to drink before each meal. 1 teaspoon each time.
Method 2: Boil 100g of green tea leaves with 500ml of clean water. When boiling, add 5g crushed garlic, boil for 5 seconds. Drink the water while it is still hot and use it as a daily drink.
Garlic is also very effective in the treatment of cancer
8. Antiseptic properties
Garlic is often used in the prevention and treatment of gastrointestinal and respiratory infections due to its antiseptic properties. In addition, people also use garlic to cleanse the intestines, prevent helminths (roundworm, pinworm, tapeworm).
9. Reduce swelling, treat wounds caused by mosquito bites
To reduce swelling caused by mosquito bites, you can use crushed garlic on the damaged skin, the feeling of itching, discomfort and swelling will be significantly reduced.
10. Acts as a Viagra
According to many studies, garlic contains compounds that increase libido in sex life, so those who have problems in "sex" should add garlic to their diet.