What is Squat? Benefits, Squat Moves, How Many Calories Does It Burn?
After a while of patience, if you reached the happy ending and lost weight, happy for you. Now your body will breathe more easily and stay away from the risk of many diseases. After losing weight, visible changes occur in your body. Among these changes, there may be sagging in some bodies. People who lose a lot of weight have a great way to collect these saggings on their bodies: Squat!
We have prepared an article about squat, which is the most trend sport of recent years, that will get you in shape. In this article, where we will emphasize the importance of doing sports for keeping your body fit and healthy, you will meet with squat sports. We are waiting for those who want to make minor changes in the hip and leg area, and those who want to have a more aesthetic appearance! Squat will not tire you out, it will make your body look tighter. Come on tempo!

What is Squat?
A word of English squat, squatting means. You will immediately understand the relationship between sports and sports. It is a type of exercise movement performed by squatting. It is a type of exercise that is both economical and does not require materials. It can be done easily at home, in your environment. It is the favorite movement of those who want to strengthen their leg muscles. Leg and abdominal muscles work in people who do this exercise regularly. After a while, major changes occur both in the abdomen and in the leg area.
Squats can be done with weights in gyms. When using weights, you should definitely act with a sports coach. Your coach will know best how many kilograms you will work. Squat movements, which gather the body during the weight loss process, also support the body resistance of people who do regular sports.
Squat types vary according to the weights used and the position. It is known as a closed squat, in which the legs are spread very close together. If the legs are spread beyond the shoulder level, it is called a sumo squat. What is done by jumping up is called jump squat.

What Should Be Considered While Squat?
Never try squats without warming up. Exercising without warming up affects the muscles in the body and can have dangerous consequences. You can start after 15 minutes of brisk walking.

While doing squats, it is necessary to open the feet at the same angle from each other. This width should be body width. In this way, if the feet are opened, the movements are made healthier.

Always try to keep your body upright.

If you are going to do it using a weight, you should lift the load at the same time and evenly distributing the weight.

Be slow at first movements. Being fast does not immediately lose weight and tighten the body. Adjust your body by accelerating over time.

Adjust your breathing along with the squat movements. By exhaling at the right time, do not risk your health and make the exercise easier.

Do not dehydrate yourself before exercising. Breath and water are essential for squats.

When starting the squat movements, your legs should be shoulder-width apart, your waist should be inward and tense, and the chest area should be outward.

Try not to bend over when you want to support your movements with weights. Because your goal will be to do sports by squatting.

Never lift your heels off the ground. The entire base should be on the ground. Choose shoes that fit your feet for the right steps.

If you exercise with the right movements, squats will not cause knee pain. After a day or two of sports, your body will adapt to the squat.

What are the Squat Benefits? What Does It Do?
Squat activates many muscles at the same time. In this way, it accelerates blood circulation.

Since it is an exercise that activates the metabolism, it also initiates fat burning.

Generally, people who work at a desk complain of back and lower back pain. With squat movements, these pains disappear. For the first few days, you may experience pain as your body is not used to it. After getting regular, your body resistance will become stronger.

Squat, which is also effective for those who think that their body is disproportionate in front of the mirror, makes the legs look more muscular and bulky. Likewise, it creates a tighter appearance in the hip area.

Preventing sagging in the hip area is among the benefits of squats.

As it strengthens the back and waist area, it allows you to stand more upright. Squat will be the right exercise to realize your dream of losing your belly.
Illustrated Squat Moves and Explanations
1) As shown in the image, the feet should be shoulder-width apart. You should place your overall weight on the heels. You should avoid standing on tiptoe. If you keep your back straight, you will avoid possible pain.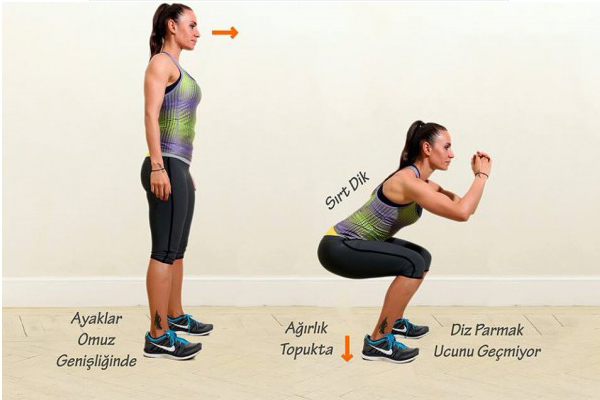 2) Spread the legs shoulder-width apart, connect the hands behind the head. Thus, you achieve balance. Squat down and rise slowly with a crouching motion without bending over. You can try in sets. You can practice the movements more easily by taking deep breaths.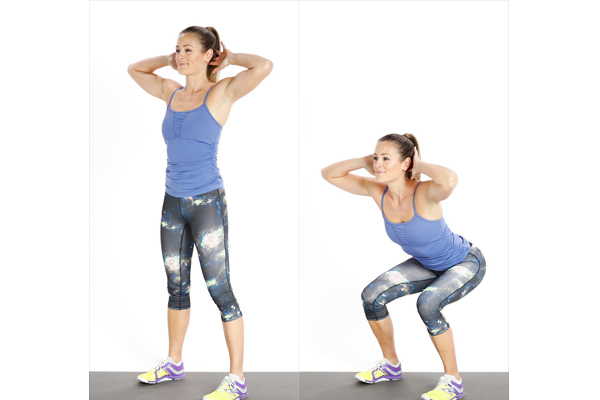 3) If you want to work with a weight, come back to an upright position and spread your legs shoulder-width apart. Hold the weight evenly with both hands. Stand up with the weight as you squat down. During the squat, the weight should stay in line between the legs.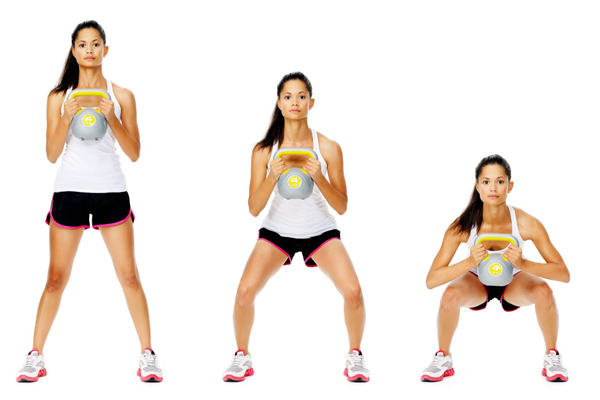 4) You can support the waist with a ball while doing squats indoors. With this exercise supported by the wall, it will be easier for you to squat. Approach the wall. Fill the space between your back and the wall with the ball. Get into an upright position and raise your hands forward evenly. You can do several sets of squats this way.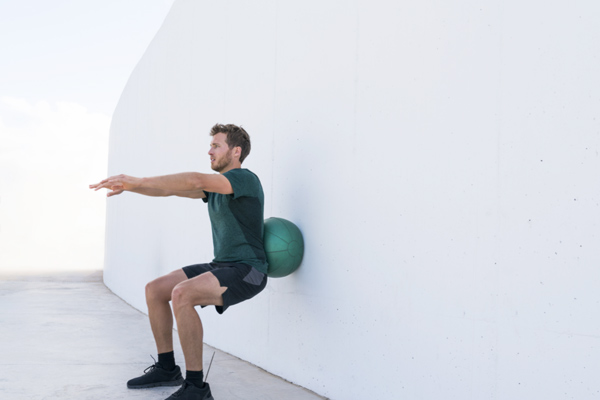 Does Squat Thicken Legs? Does it thin?
Squat is a sports movement that works the leg muscles intensely. It collects and tightens sagging and loose leg skin after a while. Thus, the leg area, which looks fat due to sagging, gains a thinner appearance. Since the muscle ratio in men and women will differ due to hormones, there will be less muscle gain when women squat. In addition, it will be seen that men gain more leg muscles when weight is exercised while doing squats. The thickening of the legs with squat movements of a person who is fed with muscle-building foods may also vary according to gender.

Does Squat Increase Hips?
We answer this question that occurs in the minds of people who do squats. Squat does not enlarge the hips, it tightens the skin of the hips. If you have a diet that consists of very fatty foods, fat will primarily occur in the hip and belly area. With squats, this lubrication can become permanent. In order to have a fit appearance, you must first burn fat. For this reason, you can ensure that your body has a tighter appearance by eating a healthy diet.
Squat is an exercise that shapes and tones the body. Growth is not possible in any of your regions. It collects the drooping body. It allows people with low shoulders to stand more upright. For this reason, the hips of people who do regular squats do not grow. Fat creates growth.

How Many Calories Does Squat Burn?
Squats burn calories in different numbers for men and women. The ratio of muscle and fat in the body affects this calorie amount. E.g:
While a 55-lb person burns 460 calories in an hour,

A person weighing 70 pounds can burn 600 calories.

An average of 230 calories can be burned by squatting for about 1 hour.

When Does Squat Give Results?
You can create a squat program with an expert coach to tone your body and get it in shape. Or you can make your own program with sports videos at home. It will be of great importance to be determined and organized as you move forward on this path. You have to be patient for a while to get the best results. You can notice the results in the mirror about 50 days after you start doing squat exercises. In the meantime, you should take care to eat healthy and do sports about 5 days a week. You can get 100% efficiency from the squat by staying away from oily and salty foods.