Top 5 Thermos Cup Suggestions
Thermos cups are frequently used in daily life. It helps to keep the drink hot or cold. When buying a thermos cup, you should take care that the thermos is made of quality material. Thermos cups are one of the most basic needs you will need when you go for a walk or go on a picnic with your family.
Best Thermos Cups
Stanley
Pearl
vera
Nurgaz
Aladdin
Thermos cups are your most important savior when you are away from your home and where there is no cooling or heating system for your beverage. Choosing the best brands among thermos glasses is very important for your health. We have given many thermos cup suggestions here. You can choose the most suitable one among these thermos cup types . Now, let 's examine the prices of thermos glasses and the details of thermos glasses…
Top 5 Thermos Cup Suggestions
The ranking is given at random; does not constitute value.
1) Stanley 0.25L Classic Trigger-Action Travel Mug
If you think that the thermos cup should be bought from the Stanley brand, this mug is for you. Stanley glass; It is durable, stylish and portable.
It has an easy to clean cover. You can also wash the cover in the dishwasher.
It fits in the car cup holder. For this reason, it is possible to carry it with you on your travels.
2) Sedef Silver Steel Thermos Cup 500 ml Thermos Mug Mug Vehicle Thermos Coffee Cup SDF522 Tea Cups 548
If you think that the thermos cup should be steel, this mug may be suitable for you. It has a non-slip sole feature.
If you have a hot drink inside, it is useful to open the lid slowly. The inside and outside of the glass are metallic.
It is recommended not to keep your thermos glass in a humid environment. If you pay attention to this situation, you can use the product for years.
3) Vera French Press 304 Stainless Steel Thermos Mug Mug Vehicle Tea Coffee Thermos 500 ml
Vera thermos mug has a swivel lid. It can preserve your hot and cold drinks for a long time.
It is comfortable to use with its ergonomic body design. It does not burn your hand and has a leakproof cover.
This thermos cup, produced with first class quality, is suitable for contact with food. It is a glass that you can use for many years.
4) Nurgaz Stainless Cup Camping (NG-184-CG)
Nurgaz stainless mug is suitable for your camping and travels. It offers comfort with its stylish design.
This glass can be easily washed in the dishwasher. Its capacity is 270 milliliters. Provides ergonomic use.
If you are looking for a quality and useful product, this mug may be for you. The mug is silver in color.
5) Aladdin Cafe Thermovac Leak-Lock™ Stainless Steel Mug 0.25 LT
The Aladdin stainless steel mug has a sealed leak proof lid design. Steel is double walled.
It attracts attention with its renewed colors and designs. You can carry it in your car and bag with its leak-proof structure.
It has a powder coated surface. It can be easily washed in the dishwasher. It has a polished steel strip.
Features of Thermos Cups
A thermos is a tool to keep beverages hot and cold at the maximum. They are made of durable stainless steel.
Ergonomic designs allow you to use and grasp the thermos cups easily.
It allows you to preserve the taste of your drinks at the highest level with the highest segment material.
Thermos cups vary according to the purpose of use. Thermos cups are easy to carry.
They have a double-walled protection system. Thermos cups have high thermal insulation.
After the lid is closed, it cuts off the air exchange. It creates a vacuum environment.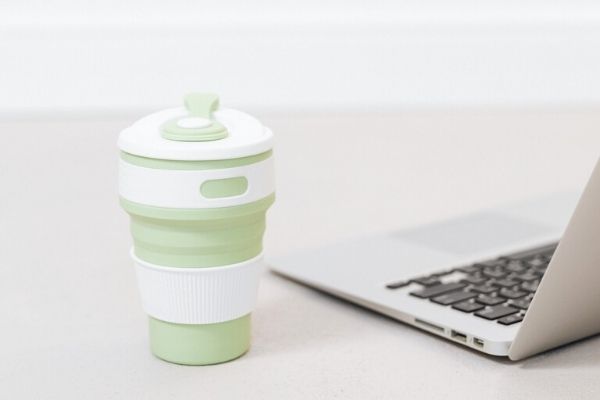 How to Use Thermos Cups?
Before using the thermos, you should thoroughly clean it. If you are going to use the thermos glass for cold drinks, you should cool it in the freezer.
You can also fill it with water or ice. After it cools a little, you should pour the water.
When the thermos cools down, you should quickly transfer your cold drink into it. Then you should quickly close the lid.
If you are going to use it for hot drinks, you should fill the thermos with boiling water. After waiting for 3 minutes, you can pour the water.
When it gets hot, you should quickly put your hot drink inside. You must close the lid tightly.