Gift Christmas Chocolates and Prices
Another year has passed, with its bitter and sweet. Whatever happened this year should be well remembered and remembered. He should cherish new hopes on the first leaf of the calendar and accumulate good memories all year. This is the wish of many people for the New Year, isn't it?
It is everyone's dream to eat sweets and talk sweetly, to send positive emotions to the universe and to establish good relations at the New Year's table. If you are looking for a sweet detail on your table at New Year's tables or during short visits, we will offer you chocolates as souvenirs. You can get everyone's heart if you buy one of the chocolate packages on our list to your neighbor or friend.
If you do not want to go to the market and confectionary shop simply because it will be overcrowded with people, you can always check out the best online cake shops. It works in the same way as an E-commerce platform does. You need to select the cake you want delivered, enter the address and make the payment. That's it!
If you are someone who cannot say no to chocolate, if you are going to a special celebration at New Year's Eve, if you want to relax at home with tea or alcoholic beverages, have your chocolate plate ready somewhere in the corner. As your mouth sweetens, so does your soul. If you haven't bought chocolate yet, you can choose products with specially designed packages.
Chocolate types with metal boxes and Christmas decorations will also be circulated on the last day of this year. Now let's look at the list we have prepared for chocolate lovers and get to know the chocolate packages that make hearts happy as we enter the new year.
Gift Christmas Chocolates and Prices
1) Dark Brown 48 Christmas New Year Greeting Chocolate HAPPY BIRTHDAY Madlen Gift
Would you like to present a package prepared from original handmade chocolates to your loved ones in the new year? You can use these chocolate packages to thank your doctor and express your gratitude to your teacher. There are a total of 48 milk and dark madeleine chocolates in a box. Happy birthday is written on the packaging. You can gift such chocolate packages to your loved ones in the last week of the new year. Favorite gift for those who eat sweets and talk sweets! 1 box of product is 99.90 TL.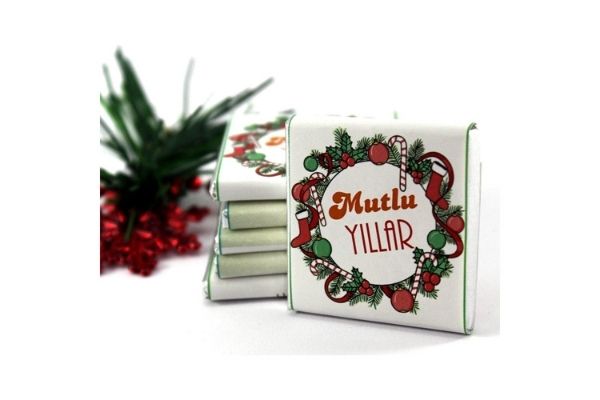 2) More Than Gift 2021 Christmas Box
This flamboyant box contains 100 gr chocolate dragee, 1 Christmas pine tree, 1 cookie with a message and 1 New Year's themed mug. When you want to gift a chocolate package to your loved ones for the new year, you can evaluate this special product, which is one of the More Than Gift options. This box of chocolates and cookies is just for you to bring the smile on the other party's face. The price of the stylishly designed box is 139 TL.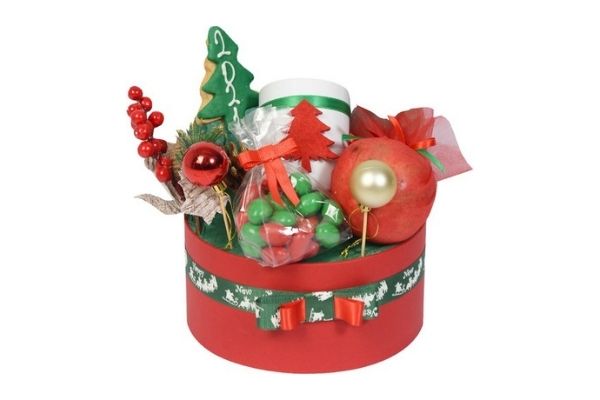 3) Tafe Premium Collection Mix
If you are invited to a private house on New Year's Eve, you cannot go empty-handed. You can buy this chocolate box with 5 different compartments and accompany the invitation. Tafe Premium box, which comes together with delicious chocolates, consists of mixed products with Turkish delight and hazelnut. Those looking for a chocolate package that appeals to both the eye and the palate, order a few of this product. You can get it to accompany your most special guests or the most enjoyable evenings. The price is 86.65 TL.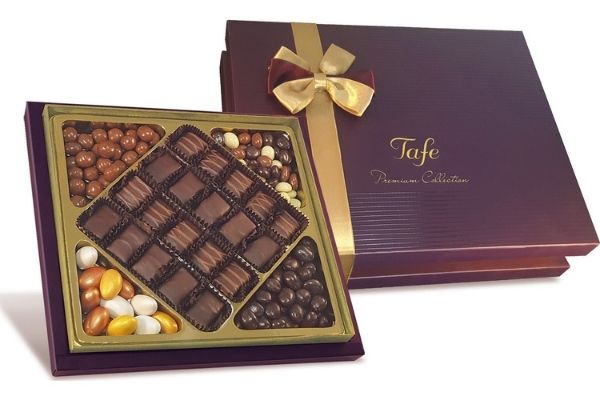 4) Zek Fabulous Gift Set – Stylish – Full of Flavor
While welcoming a new year, do you want your loved ones to be happy by buying gifts? If you have such a thought, Zek Fabulous Gift Set is for you. This product with a stylishly designed special decor case consisting of sahlep, hot chocolate and milk chocolate will be a very cool choice. The hot chocolate, sahlep and chocolate eye in the box decorated with poinsettia will also fill the stomach. If you want to buy it before it is sold out, it is on sale for 229 TL.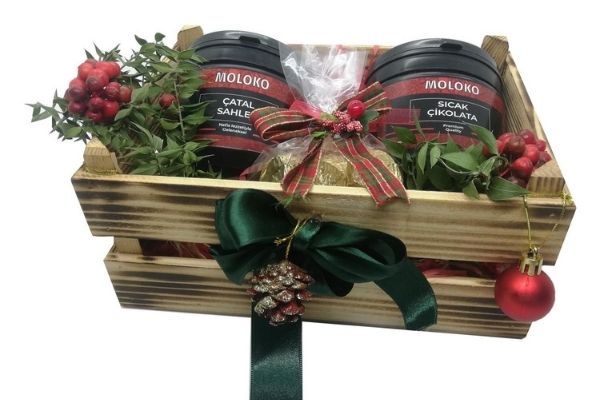 5) Dark Brown 48 Christmas New Year Greeting Chocolate Madlen with Special Message
If you want to offer a small chocolate to your friends or neighbors at the office on the last day of the year, do not miss this product. You can knock on the neighbors' door in the apartment, wish them well and offer chocolates. You can make many people happy with 1 box of products in the office or school environment. You can pay 99.90 TL to buy the 48-pack chocolate package that brings together the flavor of Madlen chocolate.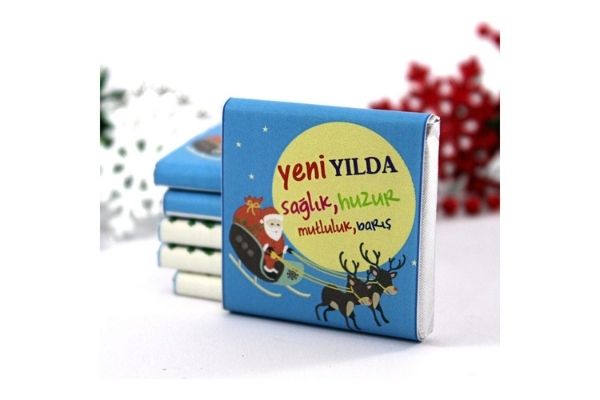 6) New Year's Special Covered Chocolate
The chocolate package, one of the symbols of the New Year, is the sweetest detail of gift giving. If you want to buy a box of chocolates for your loved ones at the end of this year, you can choose the 385 gram package. You can present the special boxed chocolate package, which sweetly accompanies coffee pleasures, to your family friends or office friends. The address of cheering up the hearts with a gift, even if it is small, is in this package. You can get it by paying 89.90 TL .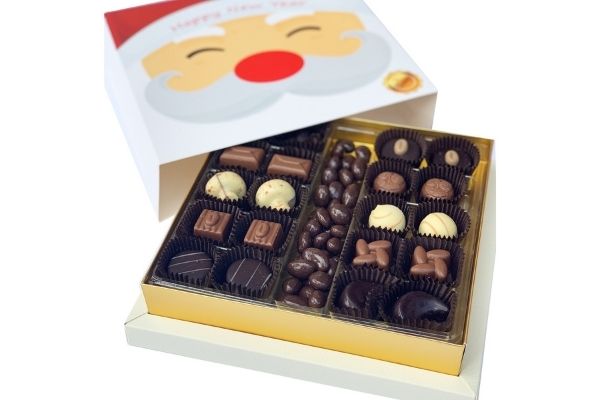 7) Favorina Christmas Tree Shaped Pistachio Chocolate Truffle 148 gr
The excitement of the new year means the Christmas tree. The Christmas tree motif, which is used in many places, is also included in the chocolate packages this year. This product, which immediately attracts the attention of those who want to buy chocolate as a gift, is also in the form of a tree. It whets appetites with the appearance of chocolates stored in a gold and elegant package. If you want to buy gifts for guests, loved ones or business environment, you can buy this stylish and delicious package by paying 60 TL .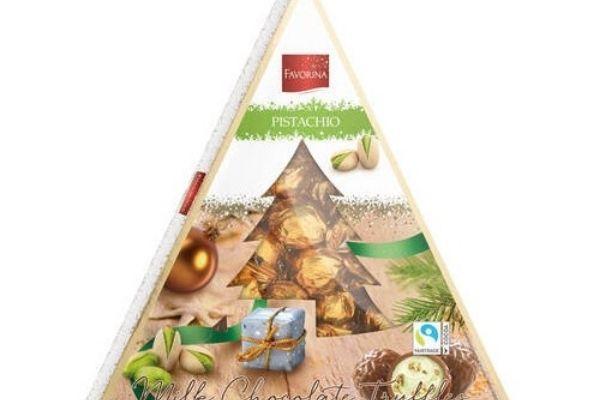 8) Pelit New Year's Special Madlen
If you want to buy gifts for many people at the end of this year, you should choose a chocolate package that is economically affordable, enchanting with its appearance, and admiring its taste. Here is Pelit's Christmas gift box, which meets all these criteria. The price of this box, which contains 8 Madlen chocolates, is 29 TL . You can add it to your favorites as a product that you can buy for a few people without tiring your pocket. Try the sweetest accompaniment of coffees!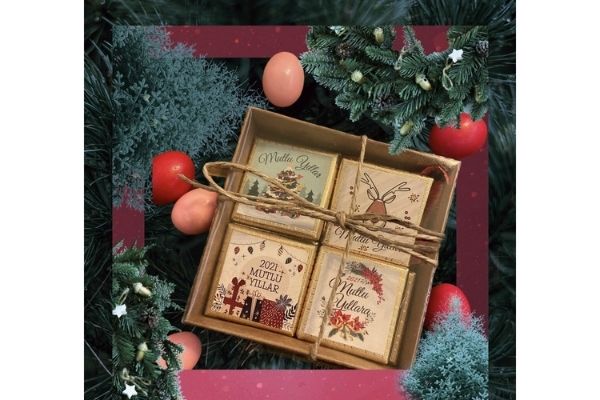 9) Tonti Ponti Christmas Chocolate Basket
The appetite of those who see 20 Valonia Madlen Chocolates, 4 Nestle Milk Square Chocolates, 2 Nestle Milk Big Baton Chocolates and the stylishly designed box together is whetted. Thanks to this chocolate package, which brings together the excitement of the new year, hearts will be united and cheered. If you want to buy chocolate in the houses you are invited or in your own home, you must place your order before it runs out. You can have this unique box by paying 129.90 TL.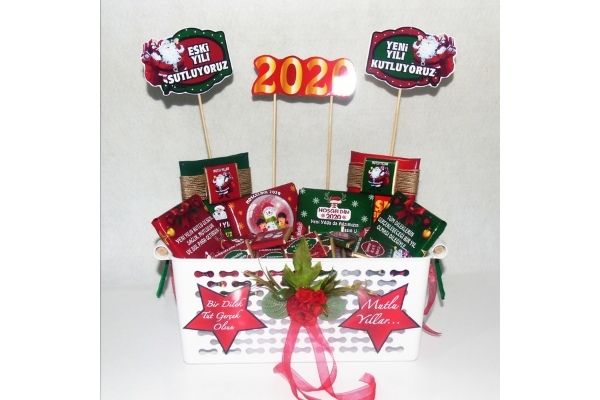 10) More Than Gift Welcome 2022 Box
When the person to whom you will gift this box, opens the box, he will see 1 mug, 1 Godiva chocolate, 100 gr coffee bean chocolate dragee, 1 Starbucks frappuccino mocha cold coffee and will feel how valuable it is. You might think it's a perfect gift for New Year's Eve. You can choose the More Than chocolate gift package, which comes in an elegant package, to make your loved ones happy at the end of the year. You can pay 139 TL to buy it before it runs out.