Red Onion Soup
The red onion soup is inspired by the traditional first course of French cuisine: the soup à l'oignon , which is served after being au gratin in the oven with grated cheese and slices of bread. A soup suitable for the winter period, therefore, when you need a warm and enveloping cuddle to refresh yourself. The variant that we propose here is lighter and more genuine, it is prepared with red onions, which have a sweet and delicate taste.
Doses for Red Onion Soup
DOSES FOR

4 people

DIFFICULTY

very low

PREPARATION

20 min

COOKING

30 min

COST

low
Ingredients for red onion soup
TROPEA RED ONIONS

 1 kg

CARROT

 1

CELERY STICK

 1

EXTRA VIRGIN OLIVE OIL (EVO)

 30 gr

WHOLE MILK

 1 glass

1 glass of WATER

00 FLOUR

 30 gr

LAUREL

 3 leaves

SALT

 to taste

BLACK PEPPER

 to taste

GRATED PARMESAN

 40 gr
Preparation of red onion soup
To prepare the red onion soup, we start by peeling the carrot and washing the celery leg. We finely chop the vegetables. Let them brown over low heat with extra virgin olive oil.
We also peel the onions and cut them into thin slices. Let's add them to the vegetables and let them dry for a few minutes over low heat.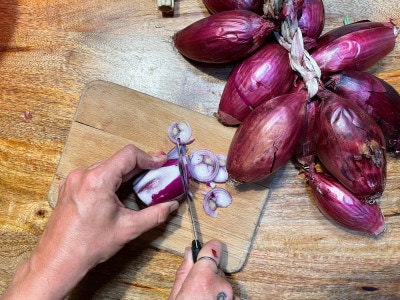 We add the sifted flour, mix. We salt and pepper to taste.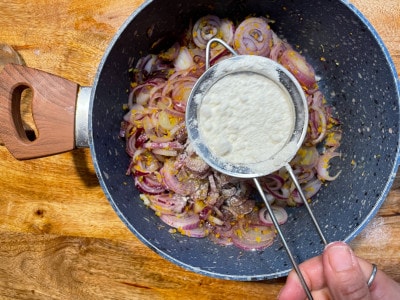 We combine the milk and water, finish scenting with bay leaves and mix well. We continue cooking for about 30 minutes. We serve hot or warm red onion soup with a sprinkling of grated Parmesan cheese.