Tropical grilled shrimp for weekend menu
Tropical grilled shrimp served with peanut sauce will make a great start to the meal. You can grill the shrimp on a barbecue or grill them indoors if the weather is bad, both of which will result in a great finish.
Serve them with cucumber and chili salad and add hot rice to make them a main dish if you like.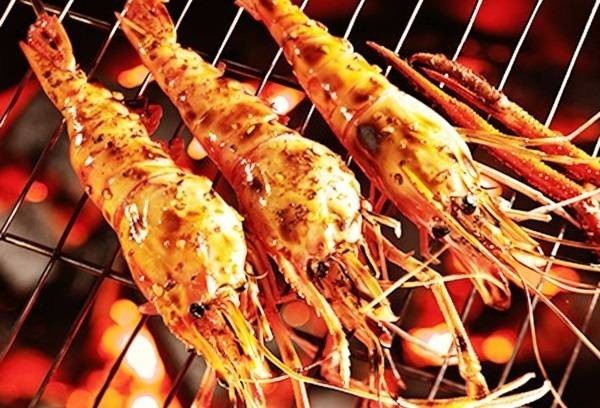 Delicious grilled shrimp dish
Ingredients Used for grilled shrimp
– 1/2 cup vegetable oil dầu
– 6 tablespoons of lemon juice
– 1/2 ginger root
– 2 cloves of garlic
– 1/2 teaspoon sugar
– 1/2 teaspoon chili powder
– Coriander about a small bunch, finely chopped
– 1 tablespoon soy sauce
– Seasoning: salt and pepper
– 26 shrimps (equivalent to about 700 grams)
Use for peanut sauce
– 1/4 cup vegetable oil
– 1 small onion, finely chopped
– 2 cloves of garlic
– 1/2 teaspoon chopped red chili ớt
– juice of 1/2 lemon
– 2 teaspoons soy sauce
– 5 tablespoons crispy roasted peanut butter
– 1 teaspoon brown sugar
– 1 cup coconut milk
Processing:
Marinated shrimp
Whisk together the oil, lemon juice, ginger and garlic. Then add sugar, chili powder, finely chopped coriander, soy sauce, salt, and pepper to taste and stir to mix.
– You soak 8 bamboo skewers in water for about 30 minutes, then string about 4 shrimps on each skewers and place them in a shallow food tray. (If using metal skewers, marinate shrimp before skewering)
– Pour the prepared sauce over the shrimp. Then place in the refrigerator for about 1-2 hours, flipping occasionally.
Make peanut sauce
– Heat oil in a small saucepan. Add the onion and cook, stirring for about 2-3 minutes, until slightly golden, then add the chopped garlic and red pepper; Cook until the onion is golden brown, but remember not to let the garlic turn brown, it will be bitter.
– Add lemon juice and soy sauce to the onion mixture; Stir until the spices are evenly combined. Next, melt the peanut butter and brown sugar on the stove. Then let it cool until it reaches room temperature.
– Beat coconut milk until smooth. Then, measure the required amount and pour in the peanut sauce. Stir well until the sauce is a bit thick.
– Preheat the oven to bake with oil. Transfer shrimp from the pan to the baking rack. Rotate the skewers evenly in the sauce. Bake them for 2-3 minutes until they turn pink. Occasionally brush the sauce over the shrimp during the baking process. Continue grilling until shrimp are pink on the other side, about 2-3 minutes more.
– Place the barbecue on a plate, add a small bowl of peanut sauce attached. Squeezing some lemon juice over shrimp is also a great way to enjoy this dish.